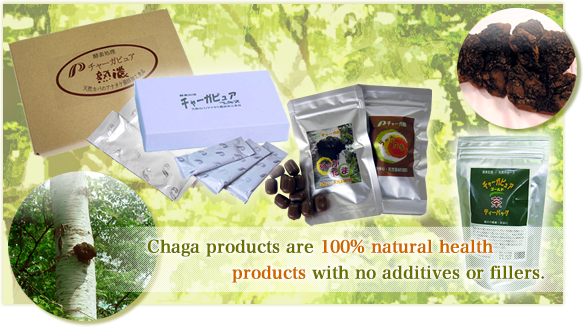 DRINKING CHAGA HELPS PREVENT EFFECTS OF ULTRA VIOLET RAYS
Chaga (Kabano anatake) is rich in β-D Glucan, an antioxidant minerals, dietary fiber far more potent tnan Agaricus. It has been confirmed that Chaga increases the number of Killer T-cells and Helper T-cells, protecting against radiaton.
ChagaPure series hs a health food supplement with its main component extracted from all natural Chaga mushroom.
In additon to ChagaPure series we also recommend ChagaPure Gold Tea for your family's health.
Try our food-friendly gourmet products made from raw materials from Chaga to promote and sustain your good health.

[03/08/2016]
Change of Address Notice
[04/01/2014]
Chagapure extract can now be claimed as an official dietary supplement that meets the regulations of the Japanese Ministry of Health, Labour and Welfare. Look at our "What is new" for the ditails.
[11/22/2012]
Previous version of ChagaPure Megumi has been discontinued.
Our new products have become more affordable as well as having greater potency of the active ingredient.
[04/15/2011]
Chaga has a preventive effect against radiation.